Secretary for the Civil Service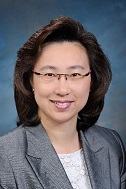 Mrs YEUNG HO Poi-yan, Ingrid, JP
Biography
Mrs Yeung was appointed as the Secretary for the Civil Service on 1 July 2022.
Mrs Yeung has her full career in the public service.  Before taking up the current post, she was the Permanent Secretary for the Civil Service from August 2020 to June 2022.
She started her civil service career as an Executive Officer in June 1986.  She joined the Administrative Service in June 1988.  Mrs Yeung has served in various bureaux and departments, including the former City and New Territories Administration, the former Constitutional Affairs Branch, the Department of Health, the former Security Branch, the Home Affairs Department, the former Environment and Food Bureau, the former Welfare and Food Bureau, and the Civil Service Bureau.
She was the Commissioner for Transport from October 2012 to July 2017 and the Permanent Secretary for Education from July 2017 to August 2020.
Mrs Yeung received her Bachelor of Arts and Doctor of Philosophy degrees from the University of Hong Kong.