30 August 2016
Dear Colleagues,
2016 Legislative Council General Election
As you are aware, the 2016 Legislative Council general election will be held on 4 September 2016 (Sunday). I therefore call upon all colleagues who have registered as electors to bring along your family members, who are also registered electors, to cast votes from 7:30 a.m. to 10:30 p.m. on that day.
Meanwhile, the relevant heads of departments and presiding officers will endeavour to make suitable arrangements so that the staff who need to work and some 24 000 colleagues who have to carry out electoral duties on polling day could cast their votes at the respective designated polling stations.
With the arrangement of "one-person-two-votes" taking effect since the last Legislative Council general election, please remember to cast one vote for the geographical constituency and another one for the functional constituency.
I encourage everyone to exercise the right as citizens to vote for candidates of your choice.
Yours sincerely,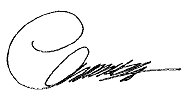 ( Clement CHEUNG )
Secretary for the Civil Service